Universal knee-type milling machine FGU 32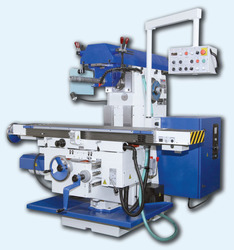 The FGU32 type is a high efficiency production milling machine with horizontal spindle. It is designed for precision and productive milling of flat or box-section workpieces up to 250 kg weight occurring in the one-off or batch production.
The wide range of spindle speeds and feeds enables effective milling of all metals with tools made from a high speed steel or a hardmetal. The split cross table enables the longitudinal table to be swivelled about its vertical axis thereby considerably extending the technological possibilities of the machine.
Using of the optional equipment from our variety entlarges technological possibilities of the machine.
ADVANTAGES:
high rigidity and geometrical accuracy
stepless feeds in all 3 axes by means of a frequency converter
hardened guideways
climb-cut milling in longitudinal axis
automatic working cycles in longitudinal axis with knee drop (Special execution)
swivelling of longitudinal table
simple operation
central lubrication systém (manually operated)
compact machine design
surface finish through oil-resistant varnishes
MACHINE EXECUTION:
Standard execution:
Table size 360 x 1400 mm
Spindle with taper ISO 50
Basis spindle speed range 31,5 – 1400 rpm
Automatic feeds X,Y,Z (stepless)
Handwheels in axes X,Y and Z with measuring dials - dividing 0,02 mm
Drive for special attachment
Climb-cut milling in longitudinal axis
Electrical equipment for 400V/50 cycles
Paint of machine – blue/grey RAL5010/RAL 9002

| RAL 5010 | RAL 9002 |
| --- | --- |
| | |

Worklighting
Working space guard
Safety guard
Special execution:
(must be required in the order)
Inch execution
Spindle with taper ISO 40
Automatic working cycles in longitudinal axis
Knee drop
Other electrical standards than 400V/50 cycles
Paint in other coloured shade
Machine equipped with digital read-out HEIDENHAIN – 3 axes ND 5023

Increased spindle speed range 45 – 2000 rpm
Pneumatic tool clamping
Dimensioned plan (mm)