Toolroom milling machine with continuous control FNG 40 CNC A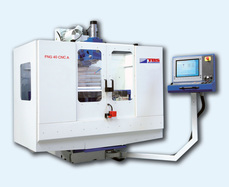 The machine FNG40 CNC A is continuously controlled tooloom milling machine designed to cover a wide range of milling, drilling, boring and thread cutting operations on workpieces up to 350 kg weight.
This machine is especially suitable for tool-making workshops.
The machine is equipped with horizontal spindle which is fitted in the ram-type spindle head and also with vertical milling head which can be tilted in the range ± 90°.
The machine is delivered with vertical milling head , swing away arm for this head (Special execution) and fixed angular table.
The perfect clamping of tool is realized by pneu-hydraulic clamping in both vertical and horizontal spindle.
Spindle drive is by means of electromotor with stepless regulation of revolutions.
The stepless spindle speeds are divided into 2 steps in range 50-4000 r.p.m
The optimum lubrication of guideways is solved by means of lubriction pump with dosing devices.
Cooling equipment of tools, working light and working space guard are delivered as standard accessories.
ADVANTAGES:
Vertical spindle
Stepless spindle speeds by means of frequency convertor in 2 steps
Full output of the spindle from450 r.p.m.
Direct measure system in 3 axes
Pneu-hydraulic tool clamping
Hardened guideways, mating faces are covered with TURCITE
Simple and confortable operation, compact layout
Central lubrication by means of dosing devices
Wide range of technological possibilities
High rigidity, accuracy and reliability of the machine
Efficient working space guard
Easy maintenance
Modern design and perfect surface finish with oil-resistant painting
MACHINE EXECUTION
Standard execution:
Control system HEIDENHAIN TNC 320
Fixed angular table 800 x 400 mm
Vertical milling head
Pneu-hydraulic tool clamping
Central lubrication with dosing devices
Tool cooling equipment
Electrical equipment for 3 x 400V/50 cycles
Painting of machine – blue and grey colour RAL 5010/RAL 9002

| RAL 5010 | RAL 9002 |
| --- | --- |
| | |

Lighting of working space
Working space guard
Special execution:
(must be required in the order)
Machine equipped with other drives
Other control system
Electronic hand wheel
Cabin cover
Automatic tool change
Machine in another execution than 3 x 400V/50 cycles
Machine with another painting
Horizontal spindle
Dimensional plan (mm)